In the Punchbowl with (Mad) Cows and Weapon of Choice

---
The first time I saw Primus was when they were on their way to mainstream popularity: they had just headlined Lollapalooza and were playing shows with capacities of 3000 people or more. Since then, I have seen them at places with massive crowds such as Woodstock '94 and HFStival '95, but I had only heard accounts of what it was like to see Primus in a small club. I then heard they would be playing at the 9:30 Club in Washington, DC on April 19th and 20th. I went to the show both nights.
The 9:30 Club, the new location, is fairly cozy. From almost any point in the audience, you can see the whites of a given band's eyes. Except in this case
Les's eyes were hidden by sunglasses,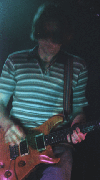 Ler's were hidden by hair, and

Herb himself was buried behind his huge drumkit. But you don't go see a band to see their eyes, but to see them play! The balcony offered a great vantage point to witness the eloquent bass playing of Les, the Zappa-esque guitar work of Ler and the graceful drumming of Herb (sounds cheesy I know, but what else could be more appropriate)?
Their set on the first day consisted of a lot of old stuff, and some of the good stuff. My only complaint is that it was too short, and a lot more songs from Pork Soda could've been incorporated into the setlist. The songs they played (in no particular order), taking both days into account, included Groundhog's Day, To Defy the Laws of Tradition, The Heckler, Harold of the Rocks, Toys Go Winding Down/Pudding Time, Sailing the Seas of Cheese, Here Come the Bastards, American Life (been a while since I heard this one), Jerry was a Race Car Driver, Eleven, Damned Blue Collar Tweekers, My Name is Mud, Bob, Nature Boy/Hello Skinny, The Pressman, Professor Nutbutter, Mrs. Blaileen, Wynona's Big Brown Beaver, Del Davis Tree Farm, Southbound Pachyderm, Spaghetti Western, and the intro to Master of Puppets.
There was some vocal processing on

Claypool's voice, which made him sound like the Residents' singer. In general, there has been a trend, from Frizzle Fry to Tales from the Punchbowl, where Primus has gotten weirder with every album, and resembling the Residents more and more. I, for one, think is a great direction to be heading in.
The sound quality was pretty good, and the music, as usual, was amazingly tight. Ler went off improvising on his guitar once in a while while Les and Herb played really well-off off each other, typical of the quality we've come to expect and love at a Primus performance. The set was different from the times I saw them previously on this tour. The only notable decoration were these

big balloons of Captain Shiner's face, which based on the light, either looked hilarious or downright creepy.
The Cows were the opening act on the 19th, and it was the last day they were playing. So Primus gave them a good farewell by doing We are the Cows instead of My Name is Mud. While I got the idea that Les liked them, I think they are best described, in Les' own words (which didn't refer to the Cows but to the stuff on the radio) as, "watered down punk rock shit." Seriously, they weren't bad. They had so much distortion on though it probably wouldn't have mattered what they played.
Weapon of Choice were the opening band the second night, and they were pretty decent. They played an interesting blend of rock, funk, and hip-hop. The bassist played some really cool funky stuff on a Steinberger bass, but I thought he should've left the vocals to the female vocalist. Weapon of Choice are cool band that definitely merits further listen.
All in all, an amazing two nights. Les' solo album should be out sometime soon, hopefully. Ler plans to get cracking on the cover for the Beanpole album. I can't wait.

---
After the show
Herb seemed a bit tired Saturday. He probably partied a bit too much with the Cows the night before.
Les was definitely in a good mood (both days)! He probably had gotten his share of relief (and remember, he spells it THC) this time around. That, and the fact that no one threw stuff at him might've had something to do with it.
On Saturday, Ler demonstrated how cool he really was. Not only did he walk up to the section, where people not holding backstage passes stood, to talk to a fan, but when I gave him a CD of my band (yes, yet another shameless plug), he asked me to sign it. This is the first time anyone's asked me to sign my music, and I must say it's an honour being asked this by a guitarist who's had a marked influence on it.
However, the person of the day is Trouz, Primus' road manager. We all love Primus' shows, and take it for granted how it all works out seamlessly, but there're people working behind the scenes making sure that the band wakes up in time and makes it to the show without a hitch. This review is dedicated in Trouz Cuevas' honour (that's corny, but what the heck---he deserves it).
Finally, a big thank you to David Lefkowitz for everything.
---
Music ram-blings || The Cheesy Primus Page || Ram Samudrala || me@ram.org || April 19-20, 1996.
---