The Police with Fiction Plane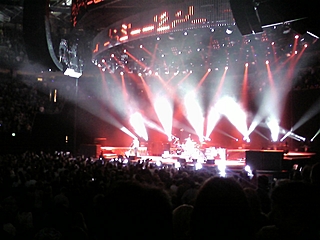 ---
It's definitely a sign of age (I'm 35 as I write this) when I wake up with a sore muscle in my back and have to take prescription strength (800m!) ibuprofen and then get excited about watching a bunch of aging musicians cash in on fame acquired 30 years ago for writing pieces of music that sometimes were good and sometimes nonsensical ("De do do do, De da da da, is all I want to say to you").
I guess this is bit of a cynical/curmudgeonly review, since the Police are a group whose music I like but it is not my very favourite. Nonetheless, since I have seen so many musicians who gained fame in the 70s, I decided to check them out to "cross them" off my list, especially since this was their first real reunion since they went their separate ways about twenty years ago.
The opening band was Fiction Plane, who I had never heard of before. It is fronted by Joe Sumner, the son of Sting (whose real name is Gordon Sumner). Hm. I wonder how they managed to get that coveted spot. Even though Joe Sumner sounded a lot like Sting (perhaps it was growing up around his dad, perhaps intentional), I skipped most of their set. I no longer like to watch opening rock bands with vocals whose music I am not familiar with since I am mostly into electronic music these days, and I rarely go to rock concerts. (See below for how my perception of what constitutes music I really admire.) As I say above, this is a cynical review.
The Police opened with Message in a Bottle which was fitting, since it has been remixed with a trance beat and has become a club anthem of sorts (which was one of my motivations for seeing the band live). They followed it up with a lot of their classic hits including Spirits in the Material World, Don't Stand So Close To Me, Walking On The Moon Every Little Thing She Does Is Magic, Wrapped Around Your Finger (my favourite song by them), De Do Do Do, De Da Da Da, Invisible Sun Can't Stand Losing You, and Roxanne.
For the two encores (which is another aspect of rock concerts I dislike since it's such a big sham--when have ever seen a group NOT come back for a encore?), they played King of Pain, So Lonely, and Every Breath You Take.
Unlike many other reunions, the Police performed as they had in their initial days: as a three piece band without any additional backup singers or instruments. I liked this minimalism. Sting, Stewart Copeland, and Andy Summers are all accomplished musicians in their own right and the former two have had exceptionally successful solo careers. So in terms of pure performance, the band was tight, focused, and had enough familiarity in their material while introducing some new twists to make it sound fresh. Although these are aging rockers, this wasn't apparent since their energy level was high. Copeland was hitting the drums as hard as ever, and Sting's vocals never wavered.
As I mention above, these days I'm a big fan of electronic music and any pieces of music that are conceptually linked (musically and lyrically) and last at least an hour. I no longer have as much musical respect for those musicians who can only write and play songs that last a few minutes and not put together a composition consisting of an hour or more coherent music, which I think requires a lot more talent and musical ability. I now understand the appeal of classical music and in this regard, in terms of pop/rock, my favourite group is Pink Floyd.
But pop/rock music is supposed to be more visceral and emotive. In that context, I had a great time listening to the Police given that it is probably the first and last time I'll ever see them. If you're familiar with many/most/all their hit songs, I recommend checking them out on their current tour. Otherwise I'd keep your fingers crossed for another Pink Floyd laser light show.
---
Music ramblings || Ram Samudrala || me@ram.org || June 7, 2007
---