Seattle to San Francisco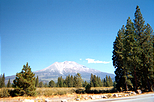 ---
Even though I was scheduled to give three talks (at Berkeley, UCSF, and Stanford) in the Bay Area, we managed to find some time to do some touristy activities (which I rarely did while I was living here, as well as explore some nature spots that I had missed during my many trips along Interstate 5.
During our stay in the city, we went out to the Golden Gate Area and checked out the bridge as well as views of the city and Alcatraz Island.
We made our way to Fisherman's Wharf and smelt the seals; checked out the Aquarium by the Bay, and played with the "bush guy".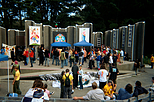 We managed to attend the 10th anniversary of the SF raves party, which was a lot of fun featuring some cool music. In addition, we stopped to see Seb Fontaine and Taj at the Sno-Drift (it was a Spundae event), and The Tuxedo, and ate at several restaurants including Tawan, Soi 4, and Tanya and Salee's.
On our way back, we stopped at Oregon Caves National Monument which featured formations of chaotic beauty.
We then went to Crater Lake National Monument (one of the deepest lakes in the country) and immersed ourselves its serenity and clarity.
We stopped besides Rogue River in Oregon and at a couple of waterfalls on the way out of Crater Lake National Monument.
In sum, this is a great short-haul road trip featuring a lot of scenic beauty along the way and too of the coolest cities in the world at its ends.
---
Pseudointellectual ramblings || Ram Samudrala || me@ram.org || September 26-October 8, 2002
---