Seattle to Stanford
---
We decided to drive down from Seattle to Stanford for a week. On the way down, we picked the coastal route along 101, which is incredibly slow going given that it becomes a two-lane road that goes through many small towns with a low speed limit. But it is a beautiful drive offering splendid views of the Oregon Coast.
We stopped for the night in Florence, Oregon, right at the border of the Oregon Sand Dunes National Recreation Area. The next morning, we continued our drive, crossing into California, and stopped at Redwoods National Park to check out the tallest trees in the world (the more interesting parts of the Redwoods are actually in Jedediah Smith State Park, Del Norte Coast Redwoods State Park, and Prairie Creek Redwoods State Park).
The Redwoods grow to a height of more than 107 metres/350 feet. Unlike their cousins, the Giant Sequoias that grow in the Sierra Nevada region in the Western United States, they are thinner, but they also grow taller. The majestic forests were definitely a sight to see.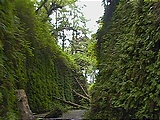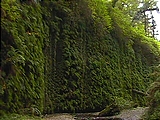 We walked around a bit in the forests and went up to Fern Canyon, which featured a canyon lined with fern. Along the way, we also caught sight of some magnificent (Roosevelt) Elk.
We then drove through and arrived at Pacifica for the night, where we were spending the week with our friends. I was mostly at Stanford campus through the week, where I ended up discussing quite a bit of interesting science and catching up with a lot of friends. I saw Toy Story, Training Day, Joy Ride, and The Iron Monkey; and hung out at places like Dave and Buster's, Amnesia and the 500 Club.
On the way back, we stopped back at the Oregon Sand Dunes National Recreation Area and took an All Terrain Vehicle (ATV) out onto the dunes which seemed to be endless. It was an amazing experience and a lot of fun to go just about anywhere on the dunes. The top of the tunes (which requires some skill to get to) presented awesome views of the Oregon coastline. My friend Jason almost killed himself when he attempted to come down a steep low and the ATV flipped, causing him to fall on his back.
We then stopped at the Sea Lion Caves, which apparently is the largest sea cave in the world, though we unfortunately didn't see any Sea Lions. Again, we had the opportunity to witness some amazing views of the Oregon coast.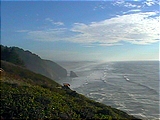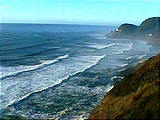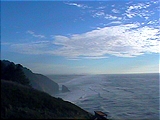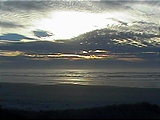 Finally, we made it back to Seattle and crashed into our beds looking back on yet another incredible journey.
---
Pseudointellectual ramblings || Ram Samudrala || me@ram.org || October 6-15, 2001
---