Forty days and forty nights in Thailand, Nepal, Tibet, and India - highlights
Purity of the heart is to will one thing. --Kierkegaard
---
These are just the highlights of my 45-day trip to Thailand, Nepal, Tibet, and India containing all the pictures taken on this journey. There is also a more detailed review which contains only a subset of the pictures (ergo, more text, fewer pictures).
---
Thailand, December 10-17
December 10-11
We learnt origami from Rini, a girl we met on our flight.
The air hostesses tell us that we have had enough alcohol (I'm a teetotaler).
December 12
We check out Khao San Road after landing in Bangkok.
Bagus illustrates the benefits of melatonin.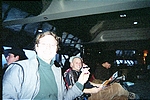 We wandered around the streets of Bangkok during the morning after taking a nap.
We took a longtail boat ride. Along the way, we see various temples, a fish farm, and visit the Thonburi snake farm which saddened me with its objectification of animals.
Proceeded to Wat Pho, one of the grandest Buddhist temples and featuring the largest reclining Buddha in Thailand.
Got lost taking buses, and got my head shaved.
Met Viton Winvitoon, who took us shopping.
Went to Nanas; moved by the objectification of the Thai girls.
Jason finds a copy of Tintin in Thailand (a bootleg) at the G-Spot bar; it thrills me to no end given my love of Tintin comic books. I lose it promptly at the next place we go to.

Play music until the wee hours of the morning on Khao San Road.
December 13
Bagus and I decide to head out to Ayutthaya while Jason shops. We check out the amazing ruins, the elephant kraal, some temples, and wander around Ayutthaya Historical Park.
Go to the festival of lights, meet Charoonsak, witness an awesome friendship between a female Tuk Tuk driver and a German tourist, and eventually manage to find our way back.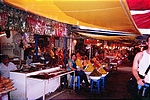 December 14
I go back to the G-Spot to pick up another copy of Tintin in Thailand. I watch a waitress elbow a customer on the chin after he tries to grab her.
I meet two Thai girls, Mali and P'Ram. We go out to eat, karaoke till the wee hours of morning (I sang Hello by Lionel Ritchie and Like a Virgin by Madonna).
Go back to the hotel, have breakfast, and convince them to go with us to Ko Samui and Ko Phagnan.
We get tickets to Ko Samui from Bangkok, where Mali and P'Ram are sleeping and are awakened by a wandering baby who is just as startled as they are.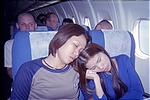 We take a boat ride to Ko Phagnan from Ko Samui which is extremely peaceful.
We then rent a four-wheel drive when we land and drive about a couple of hours to a remote beach, We stop on the way to do some shopping and jam out on the streets.
We rent a couple of beach bungalows and have an amazing dinner at a nearby restaurant.
Mali and P'Ram and I philosophise until late.
December 15
We sleep in since it rains a lot.
Mali almost kills herself at a nearby waterfall (the last picture is Mali laughing at P'Ram (who was wary of crossing) before she herself gets carried away by the water!).
Mali and P'Ram put together an awesome dinner.
December 16
Hang out at the beach before we have to leave.
Miss the return boat by five minutes. Bagus forgets his money and has go back on a motorcycle to get it. We find a bar that serves some cool milkshakes.
Boat ride a bit more choppy, we stumble around to find our way to our plane to Bangkok.
We find a place to stay, do a bit of shopping, and then go to the Hard Rock Cafe in Bangkok where a cool band called Ice Kenda was playing. I stay up the whole night talking with Mali.
December 17
We leave early the next day to the airport to Katmandu, bidding a tearful goodbye to Mali and P'Ram.
---
Nepal, December 17-19
December 17
Arrive in Katmandu and get picked up by our agency (Plan Holidays, who I highly recommend), find out that we have to drive to Lhasa and back since our flight back from Lhasa was cancelled (we were going to drive only one way). We stay at the Hotel Manang after meeting with Postak, the manager of Plan Holidays.
Wander around Katmandu and have an awesome meal. I go to sleep early while Bagus and Jason find some people singing Bhajans (hymns) and join them.
December 18
Breakfast on the roof of our hotel with views of Katmandu.
Drive to Bhaktapur and see the temples in and around Durbar Square, with our driver Nobin who loves Bob Marley.
The three of us buy Thangkas by Kopenus Lama from an art dealer in Bhaktapur.
[Thangka scan]
Drive up to Nagarkot and see beautiful views of the Himalayas.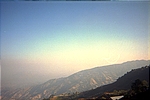 Stop at Pashupathinath, where we are not allowed inside the Shiva temple, showing again how people can be stupid about religion.
Stop at Swayambhunath, a Buddhist temple with a giant prayer wheels and stupas (where we act like the tourists that we are).
Dinner with Postak and Nobin at a fancy Nepali restaurant.
December 19
Drive to Kodari with our guide Roshan, check out beautiful views of the Himalayas, contemplate bungee jumping off of a suspension bridge, and meet some cool people along the way.
Finally arrive in Kodari, at the Nepali/Tibet border.
---
Tibet, December 19-28
December 19
We have problems with Nepali emigration, have problems but pass through Tibetan/Chinese immigration, and meet our Tibetan guide "Tuesday" (name shielded to protect the innocent) and our driver Ludor across the Friendship Bridge.
We make our way up the Friendship Highway and spend the evening in Zhangmu (2300 metres/7590 feet).
December 20
Early in the morning, Jason figures out what the hell we're doing here while Bagus mugs for the camera.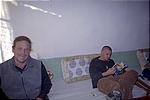 We drive (climb) from Zhangmu (2300 metres/7590 feet) through Nyalam (3550 metres/12,375 feet) where we played some hackey sack with the local kids (and feel the altitude).
We finally get a peek (pun intended) of Everest.

We go through the Tong-la pass (5120 metres/16,896 feet) - the highest point on the Friendship Highway, through Tingri, Xegar, and spend the night in Lhatse (4000 metres/13,200). The views of the Himalayas and the Tibetan plateau illustrate why the Friendship Highway is called one of the most spectacular scenic routes in the world.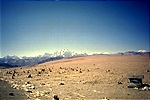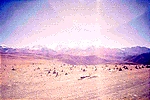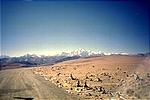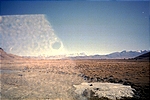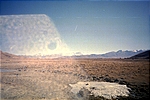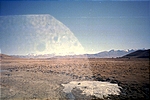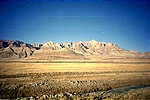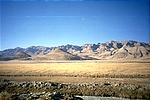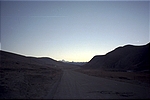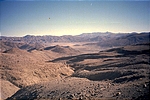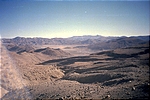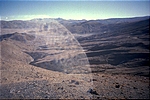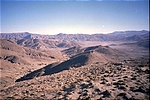 December 21
We drove from Lhatse to Xigatse (3900 metres/12,870 feet), the first big city in Tibet that we encountered. The Chinese occupation was sad to watch. We stopped at the Tashilhunpo Monastery, the seat of the 13th Panchen Lama.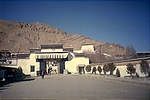 We make it to Lhasa (3600 metres/11880 feet) by 10p.
December 22
We went to the Potala Palace, the home of the exiled Dalai Lama, which gave us a commanding view of Lhasa from the roof.
Jason and I buy Thangkas from a dealer in the Palace, painted by the Monk Tun Dru.
[Thangka scan]
Go to the Barkhor area, Lhasa's pilgrimage (and market) circuit (kora) surrounding the Jokhang, one of the most revered structures in Tibet. (Of course, Jason and I wander around the circuit anti-clockwise when everyone else goes the other way).
We drive around Lhasa for a bit and where Jason buys me a guitar and I buy Bagus a keyboard. We're treated like rock stars when we play instruments out here.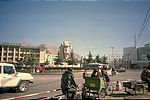 We then go back to Barkhor and the Tibetan Quarter surrounding it. We wander through some random people's houses in extremely narrow alleys and Bagus makes a new friend. Interestingly, we check out a Mosque in the Muslim Quarter.
December 23
We went to Norbulinka, which houses a zoo (which again made me sad) and the Dalai Lama's summer palace.
We then head out to the Tibetan museum, which is decent but has quite a bit of Chinese propaganda.
We end the afternoon by stopping at Drepung Monastery where we witness monks engaged in a rich dialectic.
Jason and I wandered around the streets of the Tibetan Quarter, and buy a stringed instruments called a Damnye from a local dealer. We jammed out in the streets of Tibet until late evening.
December 24
In the morning, we visit the Ani Sangkung nunnery in the Tibetan quarter.
We spend Christmas eve at our guide's house where his many girlfriends fight over who gets to spend time with him (resulting in the most amount of broken glass I've seen in a day).
Dinner at a Chinese restaurant with Tuesday, one of his girlfriends, and friends.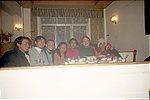 December 25
On Christmas day, we head out back to Nepal, with our trek to Base Camp still to go. We again through the day and stop in Lhatse. We see some amazing views of a serene lake on the way.
December 26
We drive from Lhatse to Xegar, where we're told that it's so cold (-20 degrees Celsius) that the monks in the Rongphu monastery had come down. We decide to drive up as far as conditions would permit and do the remaining part of the trek in one day. It's early afternoon when we reach the Geu-la pass (5170 metres/17061 feet). As we crossed the pass, the views on either side--one of the Zombuk and Dzaka valleys, and one of the Himalayas, including Everest--were breathtaking.
We hit a sheet of ice (on a ridge) that the car couldn't go through around 4p. We then decided to walk the next ten or so miles (starting at about an elevation of 5000 metres/16500 feet) to the base camp marker motivated by great views of Everest!
We reached the base camp marker at 5200 metres/17160 feet around 730p, exhausted and exhilarated. Pictures cannot do what we saw justice.
After reaching base camp, we press on but decide to turn back around 8, as it gets dark. Going back was downhill, but it was still tough going particularly in the dark. We survive crossing the sheet of ice near where we started, but this hike was one of the coolest and stupidest things I've done.
We drive back to Tashi Dzom (between base camp and Xegar) late in the night.
December 27
We go from Tashi Dzom, back to Xegar to pick up Tuesday's girlfriend who (wisely or unwisely) spent the night there. We then made our way to Nyalam for the night.
December 28
We drive from Nyalam to Zhangmu, catching our last views of Everest. Stop to fix a flat tire and take various shortcuts. We have lunch in Zhangmu and bid a sad good bye to Tuesday and Ludor.
---
Nepal, December 28-29
December 28
We cross the Friendship Bridge and the border into Nepal where find there's a strike (or bundh) in Katmandu and we're stranded. We find some random guy to take us to Dhulikul, a hill resort an hour away from Katmandu, where we spend the night.
December 29
Wake up early to head out to Katmandu airport (drive in the fog and mist with our driver using his hands to wipe the windshield (reaching around the window to the front!).
---
India, December 29-January 19
December 29
Fly from Katmandu to Delhi (getting our tickets changed without a hitch). We say bye to Bagus. Jason and I head out to Agra to see the Taj Mahal. Stay at a hotel there.
December 30
Try to see the Taj Mahal in sunrise but find it's very foggy. It does lead to some hauntingly beautiful views of the Taj however.
We cross the Yamuna river in the fog and catch the sun trying to burn through.
We go shopping and I buy a marble Chess set (made of Taj Mahal marble) and a cool sitar.
We go back to the Taj Mahal and are blown away by it.
We return back to New Delhi in the evening.
December 31
We rent a car and a driver from Worldwide Safaris and head out to the Thar desert in Rajasthan, a 900 kilometre/562 mile drive. We spend New Year's eve driving through Jaipur (the pink city) and Jodhpur.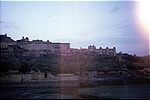 ---
January 1
We drive past Jaisalmer and arrive in Khuri in the afternoon. Jason takes a camel ride to the nearby sand dunes while I walk along, since (if you've not figured it out yet) I am against the objectification of animals.
After playing on the dunes for a while. We catch the sunset where I obviously go crazy with the camera.
We head back to Khuri and catch an awesome show featuring Rajasthani folk music.
Around 9p, we take a 4-wheel drive Jeep to get lost in the desert with Manohar "Manu" Singh and Durjan Singh (Jason is christened "Goobie Singh"). We drive for about 40 kilometres/25 miles (there are no roads here) and sleep under the stars, out in the open, on a sand dune.
January 2
We wake up to the sun rise.
We drive as far as possible into the desert (about another 60 kilometres/38 miles). We have alternator trouble (the alternator is held together by a block of wood) which we fix at a nearby village.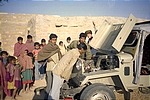 We wander around from village to village, picking up and dropping random people along the way (Jason suspects there's some drug smuggling going on). Driving the Jeep through the sand is fun (especially considering that we hadn't driven a car in a month and we were missing that)!
We have lunch on sand dunes where it's incredibly serene. I cover Jason with sand.
We go to a nearby village where we make a lot of little friends. They follow us to our sleeping spot for the night. We share our food with them and they wolf it down. We sleep on a set of high dunes under the stars.
January 3
We again wake up to the sun rise over the semi-desert.
We find that our car doesn't start, which is not good considering that we're 160 kilometres/100 miles away from our original location. Fortunately, the kids from the day before help us get it jump started.
We stop by their village and school (which I promise to put on the Internet someday).
We drive back to Khuri, but find that our path is blocked by a huge set of sand dunes. We try going around but fail. Finally, we lay a track made out of brush that gets us over.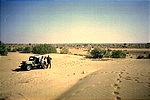 We leave Khuri to head back to New Delhi.
January 4
We arrive into New Delhi and run into Bagus (it's his birthday)! We go shopping at Bahar Ganj, which is a really cool place to buy a lot of cheap junk. We celebrate Bagus' birthday by going to a restaurant (where they give him a cake). I explain cricket to Bagus.
We find some random guy who shows us the liquor store.
We go to the Hotel Maurya and we're kicked out soon after Jason and Bagus play concierge and customer (after being denied entry into their disco for not being a couple).
We go to the Hyatt and get kicked out there as well, since Jason was dancing with too much enthusiasm.
We decide against a hat trick and return to our hotel.
January 5
I bid a sad goodbye to Jason and Bagus (I couldn't have found better people to travel with) and head out to Bangalore.
January 5-18
I arrive in Bangalore after eleven years and find that not a lot has changed (the picture is a "double decker" bus) though it has gotten more crowded.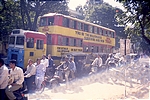 Some of the cooler things I did included spending a lot of time with my mum and sister and friends; seeing my uncles, aunts, grandfather and grandmother; and going to a spontaneous outdoor rave (the music was okay, but it was spontaneous and it was an adventure getting there).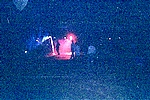 I went to New Delhi on the 17th to spend time with my aunt and her family. I left for Thailand on the 19th.
---
Thailand, January 19-25
January 19
Reunion with Mali and P'Ram. Awesome!
January 20
We went to Phuket the next day stay at a resort on Kata beach. We go out to Patong beach for the night. It's interesting, to say the least--a mini Bangkok of sorts.
January 21
We went to beautiful Phi Phi islands and hung out on the awesome beaches.
We do some snorkeling in the ocean.
We were back at Phuket late in the evening where I performed a few songs in a local restaurant.
January 22
We spent the day in Phuket and returned to Bangkok at night.
January 23
Slept in mostly, wandered around Bangkok. We then went to a restaurant where we had our own room with private karaoke. We stayed there for about five hours, and while Mali and P'Ram performed Thai songs, I tore through their amazing selection of tunes like Temple of the King and Catch the Rainbow by Rainbow; Highway Star by Deep Purple; and of course, a whole bunch of cheesy love songs. It was a fun night.
January 24
We again slept in, wandered around Bangkok, We played around with some Neoprints booths and saw The Accidental Spy. We went to a disco for the night.

January 25
We hang out in the hotel and go shopping in the morning. I bid a sad and tearful goodbye to Mali and P'Ram.
---
Pseudointellectual ramblings || Ram Samudrala || me@ram.org || December 10 2000 - January 25, 2001
---