Forty days and forty nights in Thailand, Nepal, Tibet, and India
Purity of the heart is to will one thing. --Kierkegaard
---
Having just accepted a professorship position at the University of Washington in Seattle, I decided it was time to close some loops and take a long forty-day trip to South Asia, stopping at Thailand, Nepal, Tibet, and India. I chose India because it was a place I hadn't been to in eleven years; Tibet because I've been interested in their cause against Chinese oppression and I've always wanted to climb up Mt. Everest (or at least to the base camp) from the Tibetan (north) side; Nepal because it was good entry point, and a good backup option for the Everest Base Camp should we be denied entry, into Tibet; and Thailand purely because we were in the area and I had heard so much about its exotic beauty (someone had sent me a scenic postcard of a white sand beach in Koh Samui).
My friends Jason and John aka "Bagus" decided to join me for the first 28 days. There are no words that can completely capture our experiences, but the best I could come up with is "a staccato burst of incredible adventures in rapid succession." We set out to do an amazing number of things and we accomplished them all, and then some. It was so much fun that I ended up staying a week longer even though I missed my science, the one single thing I missed most.
This missive is a fairly personal account and there is a more terse version with only the highlights. The pictures shown here are only a subset of the ones taken and the highlights contains all the pictures taken on this journey. This should be considered "in progress" and audio and video from our trip will also be added eventually.
---
Thailand, December 10-17
One night in Bangkok makes a hard man humble.
Not much between despair and ecstasy.
One night in Bangkok and the tough guys tumble.
Can't be too careful with your company.
I can feel the devil walking next to me.
--One Night in Bangkok, from Chess
December 10-12. The adventure began with our flights from Oakland to Los Angeles to Taipei to Bangkok. We met at the Oakland airport and all our flights went off without a hitch. On the flight from Los Angeles to Taipei, we made First Contact with a girl named Rini from Taiwan who didn't speak much English (and who had travelled to LA for just one day) but did make some incredible origami that she left on the seat above us. We tried to make a few to compete with her, but failed miserably. Eventually, she taught us how to make a swan.
At some point the air hostesses refused to serve us alcohol because they thought we were having too much (I am a teetotaler). We finally landed in Bangkok and got a room in the New World Guest House near Khao San Road (Th Khao San). This was around 4a in the morning on December 12, and rather than sleep we wandered around Khao San Road until about 6a in the morning.
We slept a few hours and started getting lost in the streets of Bangkok. We had breakfast at the Tuptim guest house and I bought some jackfruit (Artocarpus heterophyllus, indigenous to the rain forests of the Western Ghats of India), which I hadn't had in more than ten years. We took a Tuk Tuk (a three-wheeled public transport vehicle, also called an Auto Rickshaw in India and Nepal) to the river and then took a longtail boat (reua hang yao) and rode on it along the Chao Phraya River. Along the way we saw various temples (or Wats), a fish farm where the fish went crazy when bread was tossed, and stopped at the Thonburi Snake Farm.
I've always been against objectification of animals. The Snake Farm depressed me when I witnessed the handlers' treatment of the snakes just to please the crowd (and make a little money), and the caging of beautiful animals and birds who should be allowed to roam free from human interference.
After Thonburi, we saw more temples and finally decided to get dropped off at some random spot (we were trying to get to "downtown Bangkok" at this point). We saw some kids playing hackey sack and joined them; they were very happy to play with us. (At this point I should mention that it was a totally new experience for us to find the Thai people so friendly. At the end of the trip, I was convinced that they are the friendliest people I've ever met and that Thailand is one of the rare places where diversity is valued.) We got our asses kicked at the game and from there, after declining an offer to snort some unknown substance, we headed down the road to Wat Pho, one of the grandest Buddhist temples in Thailand. This is the oldest and largest temple in Bangkok, and features the largest reclining Buddha (symbolising his attainment of Nirvana) and the largest collection of Buddha images in Thailand.
Buddhism in Thailand, which was derived from the Sri Lanka during the Sukothai period (or the "golden age", 13th and 14th century AD), is based on the Theravada school (or Hinayana ("lesser vehicle) as the Mayahana ("greater vehicle") school think of it). This encourages a stricter adherence to tenets from early Buddhist teachings.
We were exposed to various religions throughout the trip, with Buddhism being the one that we most frequently encountered. It is amazing to me that a religion as simple as Buddhism (in my view, Siddartha Gautama's teachings were based partly in an effort to simplify Hinduism for the masses) could be made so complicated by its followers considering that the doctrines he espoused are completely antithetical to this desire to wallow in tradition and ceremony. Gautama presented his philosophy as a choice and was careful to warn against symbolic worship, but it seems few, if any, have paid heed to his words.
After leaving Wat Pho we tried various buses to get to where we wanted but not being able to speak Thai was a definite handicap. Shortly thereafter, we were hopelessly lost. I decided to shave my head completely to match Jason (who had his head shaved before he left) at a barber shop we ran across.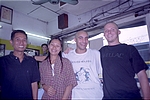 After completing this task, we climbed aboard another bus and got off at yet another random place, still trying to get to "downtown Bangkok". Suddenly some guy starts speaking to us in impeccable English. Turns out this guy, whose name is Viton Winvitoon, is a teacher at a university in Bangkok and was very pleased to have met us. We chatted with him for a little while and since he knew where "downtown Bangkok" was, we went with him. On the way we stopped at a store where Jason and I did a bit of shopping buying some cool T-shirts and Thai silk items. Finally Winvitoon bid us goodbye and we found ourselves on the Sukhumvit Road near the Nana Entertainment Plaza (Nana Neua). This was the "downtown" we were trying to get to.
For those who don't know, Nanas is the centre of the go-go scene on Sukhumvit Road. This was, however, also the place where we could find some nightlife and so we bar-hopped for a bit. What we saw was depressing: dozens of girls being objectified simply so they can make some money.
While I'm not against expression of any kind, I believe people should be happy in life and loving doing what they do, and that they shouldn't do something they don't want. My understanding of the situation (and I'll expound on this more in a separate missive later), was that at a very young age, they would be faced with the responsibility of taking care of their families. So they would quit school and start working to support their kin. As time went on, they found it hard to rise up because of their lack of education and continuing to work in a bar was an easy way to make a lot of money. It's a vicious cycle and I really feel for those are forced into this because of poverty (though there are some girls there who are from middle-class families who simply want to make more money fast).
But there were positive aspects to the night as well: as we went to the second floor bars, we walked into one called the G-Spot and the song being played there was One Night in Bangkok (sung by Murray Head, from the Chess musical; incidentally Head also played Judas in Jesus Christ Superstar) which I had been singing ever since we landed in Bangkok. We took that to be a good sign and hung around there for a little while, listening to more great tunes like Down Under by Men at Work and Der Komissar by Falco.
Jason then went to the bathroom and came back all excited. He disappears for a few minutes and returns with Tintin in Thailand. I was overcome with delight! I'm a big fan of Tintin comic books and I have every Tintin officially published (and one bootleg). Tintin in Thailand is another bootleg which hilarious and excellently satirisies both the Thai go-go scene (for those of you familiar with Tintin, Calculus is a total babe-magnet because of his deafness and Tintin prefers the company of those more like him) and the Tintin comic book itself (classic Tintin sequences are printed verbatim). The book has now come under heavy fire from the Belgians for its satire, but I'm a free speech absolutist.

We then headed out to other bars, and I lost the book at one of them. Realising it was too late to go back, we headed back to the hotel and I promised to come back the next day to buy another copy. Then we went out again, this time armed with instruments that we had brought with us--Jason used a pot from the hotel as a rattle of sorts--and an acoustic guitar I had just bought that evening and entertained the folks on Khao San Road until the wee hours of the morning (everybody was clapping and cheering).
And that was our first day, which only was an indication of things yet to come! Soon enough, we were waking up every morning with the thought "what incredible adventure can we go on today?"
December 13. The next day, Jason decided to do more shopping for his family and mail the stuff we had bought. In the meanwhile, Bagus and I decided to head out to Ayutthaya, the old capital when the kingdom of Thailand was at its peak in terms of sovereignty (from 1350 to 1767 AD). The city is named after Ayodhya (Sanskrit for "unassailable"), the home of Rama from the Indian epic Ramayana (called Ramakian in Thailand).
We took a cab to Ayutthaya Historical Park from Bangkok and wandered around the elephant kraal, the ruins of the old city, various temples, and passed through a market that sold everything from trinkets to a huge variety of fruits and clothes.
I got a pair of cool Thai-style pants here, which are cut on the sides and the front (or the back) has to be folded up and tied around your waist, as in a sarong. This went very well with my shaved head and some random musical instruments I picked up:

In contrast to Bangkok, there were very few westerners here. As we walked around, we noticed an increasing flurry of activity in the park. Puzzled, we went to a Thai Tourist Police booth that had just been set up and were informed that the Festival of Light and Sound (Yod Ying Fah) was going to happen in a couple of hours.
Seizing this opportunity, we decided to get some tickets and try some of the food vendors that were busy setting up shop. We then met Charoonsak, a film producer who had studied at UCLA, who was filming the festival. We took our seats and soon a German lady accompanied by a Thai lady sat next to us. I started speaking with them and found that the German lady (who was 74) was travelling around the Far East (on her own). Her Thai companion was a female Tuk Tuk driver (who was very proud of that fact) who had befriended the German lady and brought her to the festival. Once again illustrating the friendly nature of the Thai people, the Tuk Tuk driver constantly fussed over the German lady (and even me) throughout the show, for example fanning us when it got too hot. I was extremely touched by these random acts of affection.
Just before the show started, we saw a shooting star pass up in the sky, which provided a great intoroduction. The show itself was quite amazing. It was somewhat akin to Pink Floyd playing Pompeii (which I've only heard about). There was a great light and sound show set on 400+ year old ruins, which were spectacular in their own right, but the lights made everything completely surreal. The sound (Thai classical music) was great and the light effects (whcih included candles in balloons that floated off into the sky) were clever. The plot chronicled the rise and fall of Ayutthaya, going from a prosperous kingdom to its eventual ruin due to internal conflicts.
After the festival finished, we got lost in Ayutthaya a bit trying to find someone to take us back to Bangkok (an event that tested Bagus' patience). Finally we met someone who became an instant taxi when we offered him some money and agreed to take us back. We headed back in the back of a truck sniffing exhaust fumes. Bagus decided to retire for the night and I decided to go back to Nanas and the G-Spot bar to pick up another copy of Tintin in Thailand.
December 14. It was around 1a when I walked into the bar and bought another copy of the book. I was chatting with a British guy for a few minutes when I saw one of the patrons there grab the arm of one of the waitresses (who are distinct from the girls who dance on the counters). This girl clearly wasn't flattered by this show of attention and proceeded to connect her elbow to the guy's chin, which clearly impressed me considering that this was not exactly the expected environment to see such behaviour.
I then met up with friends of an acquaintance of mine from America, Mali and P'Ram, and we went to a nearby coffeehouse for dinner (this was around 2a in the morning).
The two girls, who were best friends, barely spoke English, had no idea what I did, but yet were extremely friendly with me. (At this point, just to avoid any misunderstanding as I write more, these girls were people that I (and Jason and Bagus) considered friends, and there were no ulterior motives, though there was a lot of misunderstanding by people who encountered us.)
Since I didn't speak any Thai, our conversation was difficult and sometimes involved drawing pictures and wild gestures, but we did manage to communicate fairly well in the end and had a great conversation. I cannot explain the chemistry to this date. After a while, we decided to sing some karaoke at a small local venue (owned by a guy named Peng, as I later found out when I returned again and again to Thailand). The girls sang Thai songs while I sang English songs including Hello by Lionel Ritchie and Like a Virgin by Madonna. We did this until about 5a in the morning and at this point I asked them to come with us to Ko Samui.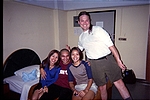 We went go back to the hotel to talk about it over breakfast. They agreed to come, and so I went up to the room and told Bagus and Jason my plans. Soon we were at the Bangkok Don Muang Domestic Airport with five air tickets to Ko Samui in our hands. Considering that we hadn't slept at all, Mali and P'Ram both slept on the plane though they were awakened by a little child who walked in front of them and started crying because he couldn't see his mother (an amusing incident).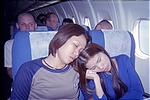 After we landed in Ko Samui, we transferred to a boat which took us to Ko Phagnan. The boat ride was extremely peaceful and mellow and I played a bit of guitar while we relaxed. Once we landed, we decided to rent a four-wheel drive so we could drive to some remote part of the island. We stopped at a couple of villages along the way to buy some food and supplies.
We finally found a great beach spot, rented a couple of Bungalows, and ate at this awesome nearby restaurant, in the twilight listening to the peaceful sounds of the ocean. We retired for the night playing music and I ended up having a long philosophical dicussion with Mali and P'Ram (which was amazing considering that a lot of it was done with a Thai/English dictionary).
December 15. Ko Phangan is an incredibly relaxing place. The next morning, it was raining heavily and so we slept in, had a late breakfast, and again just mellowed out. Eventually by late afternoon we got a bit antsy and decided to hike to a nearby waterfall. We got there and had to cross the fall to hike higher. After playing around a bit (that's Mali laughing at P'Ram being wary of crossing), we slowly started to cross when Mali (who was ahead of us) suddenly disappeared from view, crashing down at least two levels of the waterfall. Fortunately she went down in a way that didn't cause her too much damage and when I finally went to where she was, she was stunned but okay with a few bruises.
At this point, we thought about turning back but spunky as she was, she urged us to press on and got fairly high before it got completely dark. We headed back and I got into a philosophical discussion about religion, god, and the nature of the Universe with two Australian girls who lived in the neighbouring Bungalow while Mali and P'Ram frolicked in the ocean; Jason was busy filming them and Bagus was sleeping off his fever.
Come dinner time, we found that Mali and P'Ram had arranged an awesome feast for us. We had a great dinner, played some games, and again, went to bed after some jamming. This time we had a Thai local who worked nearby and an Australian join us. (I ended up leaving my guitar with the local.) Again, a philosophical discussion that went late into the night with Mali and P'Ram about Buddhism, the nature of money, and role of the King in Thailand, and so on.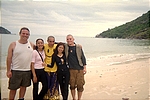 December 16. We rose early so we could catch our boat to Ko Samui. We got a little lost driving back and missed the boat by about a couple of minutes (we could see it move away). This was a good thing because Bagus had forgotten his money back at the Bungalow, and since we had already returned the SUV, he borrowed the renter's motorcycle to go back. While we waited and had food at a nearby Indian restaurant (and there were a few of them there), we ran into Brian who told us about the full moon parties they had on the beaches and a place where one could get some amazing milk shakes.
Bagus came back with a bruise (from falling off the motorcyle) and his money. We decided (with twenty minutes to spare for the next boat) to try to get some of those milk shakes. We found the bar, had the milk shakes, and almost missed the boat again! The boat ride was choppy on the way back and more than one person threw up. We transferred to the airport in Ko Samui, got our tickets changed (since we had missed our flight) wandered around the airport lost and confused, laughing our asses off, and somehow finally made stumbled onto the plane.
On a trip like this, it's hard to let go of all the things you're normally attached to, but as we wandered around the airport in Ko Samui without a care in the world, that the was first time I felt we were actually far removed from my previous existence at Stanford (this isn't necessarily good or bad, but just different). The plane ride back to Bangkok was fun, as I ended up chatting with people next to me who had graduated from the University of Washington (talk about a small world)! We landed in Bangkok, transferred our bags to the international terminal so we didn't have to carry them around, found a place to stay, went shopping with Mali and P'Ram, and then to the Hard Rock Cafe for the evening.
The Hard Rock cafe had this live band called Ice Kenda who were pretty good. They played covers only but they did it well and had the crowd moving with a great selection of songs. We went back to our room and Mali and I stayed up almost the entire night chatting (and this was when I realised that I was, at the very least, becoming enamoured by her).
December 17. Our flight to Katmandu was early the next morning and we hung at the airport bid a tearful goodbye to our new plucky up-for-anything friends. We decided to keep in touch over e-mail and I made up my mind that I would see them again on my way back from India.
That was our first week, and it was completely surreal. We had gone on so many adventures, experienced so many new perspectives, and met so many new and good-hearted people (Winvitoon, Charoonsak, and most importantly Mali and P'Ram).
---
Nepal, December 17-19
I know I'm gonna miss the USA,
I guess I'll miss it every single day.
But no one loves me here anyway.
I know my playing is through.
That's why I'm going to Katmandu,
up to the mountains is where I'm going to.
If I ever get out of here,
that's what I'm gonna do.
--Bob Seger, Katmandu
December 17. We flew business class from Bangkok to Katmandu and I had a long discussion with Jason about the nature of our interaction with Mali and P'Ram in the context of our own similar type of friendship. We went through immigration at Katmandu without problems and were met by people from the agency (Plan Holidays, who I highly recommend) with whom we had organised the Tibet trek. We were taken to meet with Postak, the manager, where we were told our return flight from Lhasa to Katmandu was not running and therefore had to drive from Katmandu to Lhasa and back.
We went to a nice divey place to eat and wandered around the lively streets of Katmandu. I was exhausted and so went to sleep early while Bagus and Jason found some people singing Bhajans (hymns, sort of) and sang along with them.
December 18. We had breakfast on the roof of our hotel Manang, viewing the chaotic nature of Katmandu traffic from above.
We found a taxi for the day operated by this really cool guy Nobin who was a huge Bob Marley fan (he stopped and even bought tapes so we could listen to them). We set off to the Durbar Square in Bhaktapur and went to a variety of temples, including the Pashupatinath Temple (not to be confused with the main shrine in Katmandu) which depicts erotic carvings on the roof struts (Chatu Bramha Mahabihar), the Bhairabnath Temple, and the Nyatapola Temple (the highest temple in the whole Katmandu valley).
We checked out the Pottery Square and art galleries, and each of us bought a Thangka from Shree Ganesh Thangka, a local dealer. I also bought this weird stringed instrument called a Sudh Sarang that was operated by pressing keys like in a keyboard, instead of by fretting.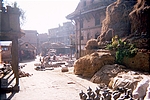 [Thangka from Nepal]
From Bhaktapur, we went to Nagarkot to catch a view of the Himalayas, all the way from Mt. Everest in the west to Kanchenjunga in the east.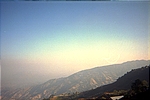 After relaxing at Nagarkot for a bit (and continuing a chess game with Jason using a travelling chess set I had bought at Bhaktapur, which I almost lost but eventually ended up winning), we went back and stopped at the Pashupathinath temple, which is Nepal's most important Hindu temple.

Perhaps it was my North Face jacket, or the fact that I couldn't speak any of the languages, but I wasn't allowed inside (and they clearly wouldn't let Bagus and Jason in). I had stopped going to temples when I was seven and this incident clearly reminded me why this was the case. It is ridiculous of any religion to be exclusionary, particularly when you consider the fact that there are people (not me) who are genuinely curious about Hinduism and Hindu temples. This sort of exclusionary thinking only leads to conflict and unease within the world, instead of promoting harmony. I think a view like this, that is exclusionary based purely on one's skin, or the place they were born, is totally stupid and inane.
In any event, with my reasons for being against religion just reaffirmed, we wandered back to our car and stopped at Swayambhunath, which is a Buddhist temple with a huge stupa. A number of prayer wheels are placed around the central stupa, which one can spin as they circumambulate. Each wheel contains the sacred mantra om mani padme hum used by Buddhists and Hindus to medidate. The stupa's white base represents the four elements, and the thirteen concentric circles symbolise the 13 degrees of knowledge and the 13 steps that must be taken towards nirvana (represented by the umbrella on the top of the stupa). The temple also contains huge prayer wheels (where we acted like the tourists that we were) and a statue of Avalokiteshvara (the Bodhisattva of our era).
We then met with Postak to finalise our plans for the Tibet excursion and went to a fancy Nepali restaurant with him and Nobin. Bagus was sick and went off to bed while Jason and I wandered around the streets of Katmandu trying to find a guitar shop. The shops were all shuttered, but there were people offering us rides or selling us inebriating substances. Everyone we met either asked us "taxi?" or "hash?" which became the inspiration for a song.
December 19. Early in the morning (5a) we headed out on the Friendship Highway to Kodari (on the Nepal side of the border with Tibet) with our Nepali guide, Roshan. We saw amazing views of the Himalayas and stopped at a little village along the way where people greeted us warmly (in particular, a little girl named Tara) and spoke very good English.
Along the way, we came across a suspension bridge high above a river, and an advertisement for bungee jumping off of it! Filled with trepidation, we decided to see if we could do it but unfortunately (or fortunately) for us, it was closed for winter. Still, standing in the middle looking down at the water below and envisioning jumping off remains a thrill even today.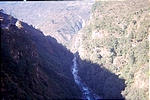 We finally arrived at Kodari, where I was quizzed for a half-hour since they didn't believe I was a professor (and all I wanted to do was leave). Clearly they were interested in a bribe, but Roshan told me to not give in and they finally had to let us cross the Friendship Bridge into Tibet.
---
Tibet, December 19-28
December 19. We crossed the Friendship bridge where we met our Tibetan guide Tuesday (aka "son of Bob Marley"; real name not revealed to protect the innocent) and our driver, Ludor.
We had to obtain a variety of permits and a Chinese visa to get into Tibet. We needed a permit for entry into Tibet, and two others for entry into various regions on our route to Lhasa from Katmandu. As we waited for clearance, I noticed that once we were approved by the official, there would be another official who would check to see if the first official had done things right. And then there was a third person who was looking over the shoulders of the second official!
I remarked this to Jason (not being too discreet about it) and the third official realised what I was saying and asked to see our passports again. After a little bit of grilling, we were off on our way to Zhang Mu (2300 metres/7590 feet), stopping for a couple of hours and jamming out on the road since it was closed due to a rockfall. The drive was a steep climb, gaining over 1000 metres/3300 feet or so and offered some spectacular vistas. Finally we could see the mountain-side city looming in the distance.
We wandered around the "one street" town of Zhang Mu for a bit (which is essentially the Friendship Highway with trucks parked in the most inane manner), walked into a house with a red curtain hanging in front of it (purely by mistake), and went to a local dance club where we performed a few tunes. The crowd was receptive to our music at first, but I'd argue they got tired of it fairly quickly.
December 20. We headed off bright and early the next morning after climbing a lot of stairs (we were at an elevation of 2300 metres/7590 feet). From there we climbed even higher up on the Friendship highway, stopping at Nyalam (3750 metres/12,375 feet) to play a bit of hackeysack with some local kids.
From Nyalam, we went through the Tong-la pass (5120 metres/16,896 feet), the highest point along the Friendship Highway. At this point we began to feel the altitude and had to take our Diamox pills. From the pass, we could see some amazing views of the Himalayas and Everest, and we stopped for a while and admired the serenity (the Friendship Highway derives its reputation as one of the most spectacular highways in the world for the views of the Himalayas and the Tibetan plateau offered).
We then went through Tingri, Xegar, climbed again through the Gyatso-la pass (it was dark at this point and we saw a couple of trucks that had gone off the road), and stopped for the night in Lhatse (4000 metres/13,200 feet). I stayed up for the night after everyone else had retired, talking to the Tibetan family who owned the guest house (who were really interested in learning English, and derived their entertainment by eavesdropping on phone conversations). I went to bed after learning a couple of Tibetan phrases.
December 21. The next morning, I woke up to see the sunrise from the roof of the guesthouse we were in. We then drove on to Xigatse (3900 metres/12,870 feet) and stopped for lunch there. Xigatse was the first big city we saw in Tibet and within an hour or so, it was disturbing. It was clear that the Chinese had made Tibetans a minority in Tibet. Furthermore, according to our guide, Tibetans are not allowed to stay in a position for too long for fear that they will rise in social, political, economic stature. We went to the Tashilhunpo Monastery, the seat of the Panchen Lama (who China officially recognises, but has substituted its own puppet for the position of the 11th Panchen Lama who remains one of the youngest political prisoners in the world). Tashilhunpo monastery is part of the Gelugpa sect and is a great place to explore.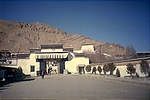 The Chinese occupation of Tibet is clearly a problem. I am against authoritarian structures of any kind but some of the actions by the Chinese government, including the heinous violations of human freedoms (see Kundun and Windhorse, for example) and the dumping of nuclear waste is what makes me take a Tibet vs. China view in this situation.
I didn't want to spend the night in Xigatse and so we kept going to Lhasa (3600 metres/11880 feet). We got there around 10p and stayed at the really cool Flora Hotel run by a family of Tibetan Muslims who were extremely kind. The hotel's hot shower was a relief (you don't want to know how long we had been without showering) and even though the room was extremely cold, we had a great night's sleep once we got under our electric blankets.
December 22. Our time in Lhasa was fairly relaxing, since we ended up spending three days here. The first morning, we went to the Potala Palace, the former home of the exiled Dalai Lama. It is an imposing structure and the views of Lhasa from its roof were amazing.
The palace was built at the time of Songstan Gampo in the 7th century and is divided into two sections, the red and white palaces. We bought a couple of Thangkas at the Potala Palace Art Gallery, painted by the monk Tun Dru who lives there.
[Thangka from Potala]
We then went to the Barkhor area, Lhasa's pilgrimage (and market) circuit (kora) surrounding the Jokhang, one of the most revered structures in Tibet. (Of course, Jason and I wander around the circuit anti-clockwise when everyone else goes the other way). We drive around Lhasa for a bit where Jason bought me a guitar and I bought Bagus a keyboard.
December 23. We then checked out the Norbulinka ("the jewelled garden"), which houses the Dalai Lama's summer palace. This was again depressing since part of this garden included a zoo. If it isn't obvious to you already, I am against the objectification of animals. From Norbulinka, we headed across the street to the Tibetan museum which housed some amazing artifacts and included a whole bunch of propaganda about how benevolent the Chinese were in their occupation of Tibet.
We then drove to Drepung monastery where we witnessed monks engaging in a rich dialectic. After Drepung, we went back to the Tibetan Quarter area around Barkhor square, shopping (I bought a cool jacket that monks wear) and wandering around the Muslim Quarter.
We saw some a guy playing a cool stringed instrument (we later found out that it was called a damnye) and we bought one. We jammed on the streets of Barkhor and the Tibetan quarter a bit. Everytime we'd play anything, as long as we kept playing, crowds of people would gather around us. It was a great feeling. What it made me realise is that these people really need some outlet for creative expression.
December 24. During the morning on Christmas eve, we went to check out the Ani Sangkung nunnery in the Tibetan quarter since we were getting tired of all the monastaries. We then went to our guide's house for lunch and jammed out a bit, playing some Bob Marley tunes Bagus and I had learnt after downloading guitar tablature from the web. We had a great lunch, cooked by Tuesday's girlfriend. Everything seemed to be going well until we heard a loud crash. Turns out that one of the girls who was there (and also one of his three girlfriends) had broken a mirror in anger. This went on for a while as a lot of tears were spilt and a lot of bottles were broken. We never quite figured out what the story was, but it probably had to do with who was going to spend Christmas with Tuesday. In any event, we thought we resolved the situation when we all decided to go out to dinner at a Chinese restaurant. Once we got there, two of the girls left leaving us with Tuesday and the one he truly loved. We had a great meal and even serenaded a bunch of other revellers in a private room before heading off to our hotel.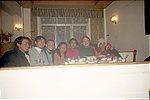 December 25. We left early to get a head-start on our excursion to Everest Base Camp. We drove all day and stopped for the night in Lhatse again.
December 26. Since we arrived in Lhatse after dark, we had missed some of the sights along the road and had an opportunity to check them out on the way back. In particular, there was this view of this beautiful lake that was incredibly still, as you can see from the reflection: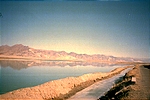 After tossing some rocks to break the ice, we then pressed on to Everest Base Camp. Our original plan was to spend some time trekking up, spending a couple of nights in the Rongphu Monastery, and exploring the surrounding area. When we went into Xegar to get our permits, we learnt that it was so cold up there (-20 degrees celsius) that the monks had come down and that the monastery was closed. We then decided (against better judgement) to drive up as far as possible and trek the remaining amount up to base camp and come back the same evening. We were the only ones on the road from Xegar, and we were the only ones attempting to trek to base camp that day. We went over the Geu-la pass (5170 metres/17061 feet) and made our way towards base camp. As we crossed the pass, the views on either side--one of the Zombuk and Dzaka valleys, and one of the Himalayas, including Everest--were breathtaking.
By the time we hit a sheet of ice (on a ridge) that the car couldn't go through, it was approximately around 4p. We then decided to walk the next ten or so miles (starting at an elevation of 5000 metres/16500 feet) to the base camp marker. The sun was out and it was fairly decent going, but the altitude was definitely taking its toll (especially since we were going all out to make it before the sunset). The view of Everest was a great motivator! Finally, we reached the base camp marker at 5200 metres/17160 feet around 730p, exhausted and exhilarated.
We paused for a bit and decided to press on for at least another mile. At some point we realised we were being really stupid and decided to turn back. It was fairly dark but the stars, which were some of the brightest I've ever seen, provided us with a lot of light (I also had a flashlight). We followed the vague trail back carefully. Even though the going was downhill, the altitude still took its toll to a point where I was hallucinating (I kept imagining someone was coming up behind me with a flashlight).
We finally made it back to the ice sheet which we had to traverse without slipping (one slip would've meant a fall about twenty feet on the rocks). This was fairly easy, but perhaps it was altitude or the darkness, I was quite apprehensive (especially considering that we had to scramble on rocks for a little bit which could cause a landslide at any point before finally walking on the glacier). Fortunately, Jason guided me along the way and we made it without a hitch, even though the rock scrambling was more frightening than the walk on the ice (which, if done right, isn't that hard, as Jason demonstrated).
Among all the crazy things I (and Jason, and Bagus) have done, this one definitely ranks up there among the dumbest/craziest. Had we gotten lost in the dark, our chances of survival were probably not very good and the ice sheet traverse could've hurt us a bit.
Finally we had to contend with a dog that was bent on harassing us, but we finally saw our driver and guide. We drove back in pitch darkness (which was another stupid thing to do) and stopped for the night in Tashi Dzom, completely exhausted.
December 27. The next day I woke up early to see the sun rise on the roof top to a litter of animal hooves (a Tibetan superstition that holds that evil spirits are warded off by them)). We drove from Tashi Dzom to Xegar, to pick up Tuesday's girlfriend who (wisely or unwisely) spent the night there. While we waited, I stood on top of a bridge and watched a river of melting ice rush under me. As I watched the river flow, it felt like I was cutting through the ice and the river was standing still. This could be said about everything that happens in life.
We then pushed on to Nyalam, stopping at various spots along the way and checking out our last views of Everest (I even picked up a couple of cool Himalayan fossils). We took a variety of random short cuts (going downhill straight across the switchbacks) and stopped to fix a flat tire.
[Fossil picture]
December 28. We made it to Zhang Mu fairly quickly, went through immigration, got stuck in traffic (thanks to poorly parked, albeit well-decorated, lorries), but finally made it all the way to the Friendship Bridge and crossed the border into Nepal after also bidding a sad goodbye to Tuesday and Ludor.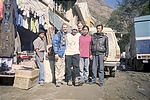 ---
Nepal, December 28-29
That's why I'm going to Katmandu,
up to the mountains where I'm going to.
If I ever get out of here,
that's what I'm gonna do.

K-K-K-K-K-Katmandu,
take me, baby, 'cause I'm going with you.
If I ever get out of here
I'm going to Katmandu.
--Bob Seger, Katmandu
December 28. Going through immigration this time was uneventful (they remembered me) but there was no sign of our Nepali guide. We soon learnt that there was a bundh (or strike) in Katmandu that day because of a rumour that an Indian actor (Rithik Roshan) had said something negative about Nepal. When people heard this news, they were so outraged that they started burning cars, looting shops, and harming innocent people. (I'm being facetious.)
In my view, strikes like this (common in poor countries like Nepal and India) are a symptom of the frustration that stems from extreme poverty and is indicative of a deep discontentment. What is disturbing is that I'm actually seeing events like this occur in the US (cf. the Mardi Gras festivals in Seattle or the numerous high school shootings), which is relatively affluent. I think that there's another kind of discontentment that arises from being given too much (this was the reason I left my life as I knew it when I was seventeen, when I was given anything I could want, to find my self). In the former case, frustration leads to random violence; in the latter case, it is boredom that is responsible.
In any event, we were stuck. But we managed to convince some random guy to take us to the airport. He was willing to take us as far as Dhulikhul, a hill resort town, for the night, and then to the airport the next morning. After spending days in dry Tibet, the scenery was green and breathtaking on the way back.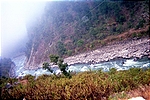 Dhulikul was a cool and quaint little town and we stayed in a great hotel (and again, the hot shower was extremely welcome). We sampled some local cuisine, got into a bit of a philosophical discussion with the locals about the lack of value in thinking in terms of countries and governments.
December 29. We had to leave early the next morning to the airport. It was a foggy morning and our driver had to manually wipe the window (since the wipers didn't work) to clear the condensation (reaching around the window to the front!). We managed to get our tickets changed at the Tribhuvan Airport in Katmandu (since the original departure date was December 31st) and headed off to New Delhi.
---
India, December 29-January 19
December 29. We landed in New Delhi without being hijacked, and headed off to the train station. At this point, Jason and I wanted to head off to Agra to see the Taj Mahal, and Bagus was going to meet with his brother Dan in Dharmasala.
After being driven by and to random sleazy people, we ended up at the train station where we found out that the trains to Agra were sold out. We then decided to perform live at the train station, grab some street food (which was incredibly cheap---samosas were as cheap as six cents each) amidst some extreme poverty, and take a car with a driver to Agra.
We bid goodbye to Bagus and headed to Agra with our driver, Suresh Kumar (who we were told was educated in London, but he didn't speak any English). We arrived in Agra at night, got a hotel, and went out to dinner. At dinner, I was coughing so much that a doctor who was dining there diagnosed me and gave me a prescription written on the back of a napkin.
December 30. We woke really early the next morning to catch the sunrise by the Taj Mahal. The morning was really foggy and we couldn't see the sun, but the view of the Taj was spectacular even in the fog. We went across the Yamuna river and back, and decided to return later when the sun came out.
We went back to the hotel, had breakfast and showered, returned to a crowded Taj Mahal. I was again given the "courtesy" of being treated as a foreigner in terms of entrance fees, which was fine with me but the stupidity of the people simply continued to amaze me; they stared at my passport for about 15 minutes and then told me that I was from France, pointing to the issuance city of "San Francisco" in my passport with great satisfaction, bobbing their heads vigourously in a circling yes/no fashion that only people from India seem to have mastered. I just decided to pay the extra charge rather than argue with them in broken English (I think, since I couldn't even understand that).
We eventually walked in and realised why the monument is considered one of the wonders of the world: Made of white marble considered to be the hardest in the world, it took over twenty years and over 20,000 men to build it. The edifice was designed by serveral architects who were comissioned by the Mughal Emperor Shah Jahan as a tribute to (and tomb for) his wife Mumtaz Mahal. Shah Jahan clearly loved his Mumtaz, considering that she was one of over a hundred wives (and the only one he had a child with), but this is extravagance at the cost of the masses (yet another argument against despotism). While I don't like Shah Jahan's motivations, the end result is positive: it is a magnificent work of collective art. Fortunately, the copy in black marble that Shah Jahan was planning to construct as a tomb for himself didn't make it past the first minaret.
We then headed back to the hotel, picked up our bags, were taken around the town by the manager who was a politician who also liked to take us shopping (the reason is commissions). We went to a marble crafts place where I bought a Chess set made of intricately carved Taj Mahal marble and some marble elephants within elephants. Then we were taken to a music store where we heard some amazing Sitar playing (I bought the most expensive sitar in the store). Finally, having spent enough money, we headed back to New Delhi.
December 31. The next morning, we went to a travel agent to rent a car to drive us to the Rajasthan Thar Desert. That agent, Sunny of WorldWide Safaris, set us up with a driver to take us on the 900 kilometre/562 mile trip all the way to Jaisalmer. We passed through Jaipur and Jodhpur on New Years's Eve, and stopped to check out a few forts and eat some cheap and most excellent food.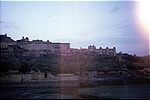 January 1. We finally arrived in Jaisalmer in the morning and by afternoon, we were on the edge of the Thar desert in a little village called Khuri. The Sarpanch (or head) of the village was Bhagwan Singh and after a lot of negotiation, we decided to rent a four-wheel drive jeep that would take us out into the desert far from civilisation. Because of the nature of the trip, the jeep had to be sent back to Jaisalmer to get its gas tanks filled, and while we waited, Bhagwan Singh arranged for a camel ride to the local sand dunes for Jason. I walked along with my guitar since I consider riding animals to be objectification also and, for the nth time, I am against the objectification of animals). The camel was not happy at all (would you be?), but Jason survived the trip.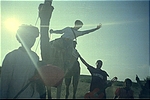 The Thar desert, which is between the border of India and Pakistan is an arid semi-desert. While there is a lot of life and vegetation, it is on sand and there are regions where there are some cool sand dunes (even though these are few and far in-between). Getting from one set of sand dunes to another is an adventure. We went to the top of the dunes and enjoyed the sunset.
We made our way back to the village and witnessed a show put together at the Mama Guest House. It was quite fascinating watching the traditional Rajasthani folk music. The performance involves a group of singers who seem to be having a passionate conversation with each other. We had our dinner and around 9p, we headed out with our driver Manohar "Manu" Singh and co-driver Durjan Singh out into the desert!
Manu was cool, but a bit crazy. Whenever we saw a fox or a deer he'd go after it with the jeep (keep in mind there is no real concept of a road here). We kept driving (Jason and I had our turn at it also) for about 40 kilometres/25 miles into the desert and finally found a large set of sand dunes to sleep on. We slept out in the open with our sleeping bags under the stars. The stars were beautiful (as at Everest Base Camp), crystal clear, and provided an awesome backdrop for us to doze off too.
January 2. We woke up the next morning to watch the sun rise, taking in the serenity of the surroundings.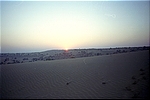 We then had our breakfast and kept driving towards the Pakistani border. We passed through the first village where people greeted us like they had never seen other humans (or a car) before. We realised there was an alternator problem with the jeep (a wooden block that had been used as a wedge to keep it from shaking too much had come loose).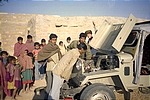 We kept going from village to village, picking up random people the way. It was hilarious. Suddenly we'd stop at some point and someone would climb on, and we'd drive for a few miles and then drop them off. Jason suspected that there was some kind of drug smuggling going on, but I think people just liked taking random rides. We were treated with great hospitality in every village we visited. At some point, Jason was christened "Goobie Singh" by Manu.
We had lunch at some random (notice the trend here?) location, which was probably about 160 kilometres/100 miles away from our original location. We climbed up the nearby sand dunes and again took in the peace of the surroundings. It was amazing to me how quiet and serene everything was---I had never experienced anything like it before. Even at Everest Base Camp, which was extremely remote, I didn't experience such solitude. Goobie, er, Jason, and I took this in and philosophised about life while I buried him in the sand.
After a couple of hours, it was time to leave and we went to a nearby village where we met Jithak Khan and a whole bunch of kids. Jithak was very insistent that we stay at his place and listen to their music, but the reason Jason and I went out into the desert was to get away from people. So we respectfully declined and asked for a location for huge sand dunes. We were driven by the head of that village (who clearly knew how to drive in the sand) to these massive tunes and within a few minutes, the entire village, including Jithak and the kids followed us.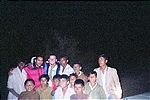 We hung out with them a bit, shared our dinner (the kids clearly weren't eating adequately which was also sad considering that we were being given the royal treatment), said goodbye to them, and climbed up the dune again for a great night's sleep under the stars.
January 3. We woke up the next morning as the kids again came down from their village, had breakfast, and found out that our car wouldn't start. Previously, whenever we asked if there was a problem, we'd get the response "no problem". This time however, it was different. We were seriously stranded.
Jump starting the car was non-trivial. We were on sand and pushing the jeep was out of the question. So we made a little path out of shrubs to give tires some traction and pushed the jeep just a couple of feet or so higher (this took about half-hour and we were helped by about twenty kids). After a couple of tries, the jeep started to the delight of everyone! That was the first of the problems we solved that day.
We then went to the village, hung out with Jithak Khan, listened to them make music and even jammed a bit with them, visited the local school (which I hope to put on the Internet one day) and finally said goodbye to the friendly people and drove back. Jason and I took turns driving and it was awesome especially considering that we hadn't driven in about a month.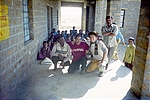 On the way, we needed some milk for the afternoon tea. We stopped when we saw some goats and Durjan went off to milk one. We also drove through certain areas we weren't supposed to and we were harassed by a village bully (not all villagers like tourists). Nothing major, until we came across a huge sand dune right in the way of the dirt track that was supposed to take us back to our village. We tried to go around it, but that didn't work too well. We finally decided to go over it, and each time we tried, we would just get stuck without even getting close to making it to the top.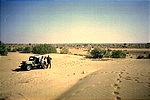 Finally we again laid out a path made from shrubs and Manu went back 100 metres/330 feet or so, and shot through the dune. We were elated! We finally ended up in Khuri, had our lunch, and drove back to New Delhi. We stopped for the night in Sikar after again having some great food along the way.
January 4. The next morning, we found out that the clutch plates in our car was damaged and we couldn't change into any gears (we were stuck in second). The thought of going back to New Delhi in second gear was not appealing but within five minutes, we changed to fourth which was a great stroke of luck! We went all the way to New Delhi in a single gear!
We finally rendezvoused with Sunny who told us about Bagus being taken for a ride (literally and figuratively) in the morning. But we re-united with Bagus and wished him a happy birthday! We went out to Bahar (???) Ganj and did some shopping (I needed to get another bag to carry all the stuff I had bought), after giving up on the slow Internet connections.
To celebrate Bagus' birthday, we first went to a restaurant where Jason and Bagus' alcohol drinking (which they had bought from the outside) wasn't appreciated, but they were very kind and even gave Bagus a birthday cake. I explained Cricket to Bagus. We then wandered around New Delhi, met random people who were also in a party mode, but we couldn't find a bar or a club to go to.
We then learnt that the only discos open were the ones in five-star hotels. So we went to the hotel Maurya and tried to get in, but they were only allowing couples. At this point Jason and Bagus, who were inebriated, sat at the concierge's desk with Jason playing the role of the concierge and Bagus complaining to him about not being allowed on the dance floor. The real concierge then came along and asked Jason to sit across him. Jason and Bagus then re-iterated their complaint, saying they had great dance moves, but the concierge would only respond by saying they could only get in with a partner. Bagus then presented the flower he was given for this birthday to concierge and said he loved him and wanted to marry him. At this point, the concierge couldn't deal with it and we were promptly ejected (I was watching all this with amusement).
We went to the Hyatt disco and things were better there at first. The was a live band playing cheesy 80s covers which was fun, and we were able to play pool there and Bagus was on a winning streak. The dance floor crowd was conservative and when Jason and Bagus displayed their exuberance, Jason was thrown out (simply because he didn't fit in). We finally made it back to the hotel where we reminsced about the trip, the adventures of the last day, and the fact that it'd be a while before I saw them again. I said my goodbyes to Jason and Bagus: I couldn't have found better friends for this Adventure, and it was a sad moment.
January 5. Early in the morning, I said goodbye to Jason again, and headed out to the airport. The flight from Delhi to Banglore was uneventful. I took a taxi home where I warmly greeted my mum who I hadn't seen in eleven years. People have asked me how it was possible for me to stay away for so long considering that I am extremely close to my family, but the answer lies in the fact that I was very focused on whatever I was doing (science, music, nature) and also because I wanted to achieve a level of closure (the faculty position was just that) before I left America.
My reunion with my old friends, my family, my neighbours, and everyone else was extremely warm. It was as though I had never left and this was very reassuring. My sister had changed quite a bit from when I last remembered her and it was great to see her.
January 6-17 This period was fairly relaxing and rather than a day-to-day account I'll try to summarise what happened. I met with my cousins, my grandparents, and hung out a lot with my friends. I had long philosophical discussions with my family and friends. We'd go out to eat and talk generally but one night we went to an outdoor rave (which was okay). I bought some tablas (one of which I gave as a gift for Jason for his birthday) and a harmonium.
Bangalore, the city where I was born, had changed in some ways and not in others. While all the old hangouts were still there, given that it is the technology centre of India, there was a lot of progress. The rich/poor dichotomy is similar to the kind seen in Silicon Valley (except that the poor people are really poor there). Not a lot had changed--even the slum near our affluent colony was still present making for a remarable contrast.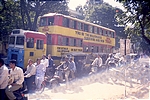 The problem with India and the people has do with their resistance to change. For example, as a feminist, I find the patriarchic culture disturbing (I was raised by my mum when my dad died when I was four, which was extremely revealing). Yet the traditions and views are so deeply conditioned that people just refuse to think for themselves and both males and females in general are content with the status quo.
Also disturbing is the fact that money motivates almost everything people do. Take science for example. When I was there, there was a Bioinformatics conference being held at the Indian Institute of Science. The article about it in the newspaper focused so much on the monetary/technology benefits of such a conference instead of focusing on the basic science value of such research which answers fundamental questions about the nature of life. This mode of thinking leads to intangible ethical pollution. This was also something I noticed in Thailand also, and in my view, for people to do great science, they have to shed this way of thinking and pursue knowledge in a pure manner, as Kierkegaard said. In general, I'd argue that pursuing anything purely, without any other polluting motivations, leads to contentment and enlightenment (which I consider really to be accepting certain truths).
January 17-18. I bid goodbye to my mum and sister and headed off to Delhi to meet my aunt. I landed in Delhi where my aunt, uncle and my cousin were there to greet me. I had dinner at their house, and the next morning we all headed out Connaught Place to get my air ticket changed (so I could stay in Thailand for a longer period), and I hung out with through the evening.
January 19. Early the next day, I headed off to the airport, and found out that my flight was delayed due to the fog, but that was okay considering that it took immigration a long time to get me out (they had to figure out how I got in since I came through Nepal and there's free travel between Nepal and India). Eventually the fog lifted and we were cleared for takeoff.
---
Thailand, January 19-25
One night in Bangkok and the world's your oyster.
The bars are temples but the pearls ain't free.
You'll find a god in every golden cloister.
And if you're lucky then the god's a she.
I can feel an angel sliding up to me.
--One Night in Bangkok, from Chess
January 19. I landed in Bangkok and got a room at the Ambassador on Sukumvit. I then head off to the bar where I told Mali and P'Ram I'd meet them. I walked into the bar saw Mali waving at me. We caught up on stuff and waited for P'Ram. P'Ram walked in later and after a warm reunion, we went out to dinner.
The night ended up being complicated because of a car accident involving the baby of P'Ram's cousin. But after much tears, we solved the problem as best as we could for the night.
January 20. The next day, after breakfast, we headed to Phuket and the Phi Phi Islands. We were on standby for the flight to Phuket, but we made it and by 4p, we had checked in at the Kata Garden Resort and were wandering around the Kata beach in Phuket. After sampling some of the local Thai cuisine, we headed out to Patong beach, which is even more hedonistic than Bangkok! We saw a transvestite-based show in one of the bars which was amusing in a crude way, and went bar hopping. One of the bars we went to had excellent music, playing a lot of 70s rock and metal, including Iron Maiden, Deep Purple, and Rainbow. We met this random guy named Troy, a diver, who was celebrating his birthday who hung out with us for a bit. We also got in some dancing at the local discos. P'Ram drank more than she should have which led to an heated argument between her and Mali, but we finally made up and made it to the hotel.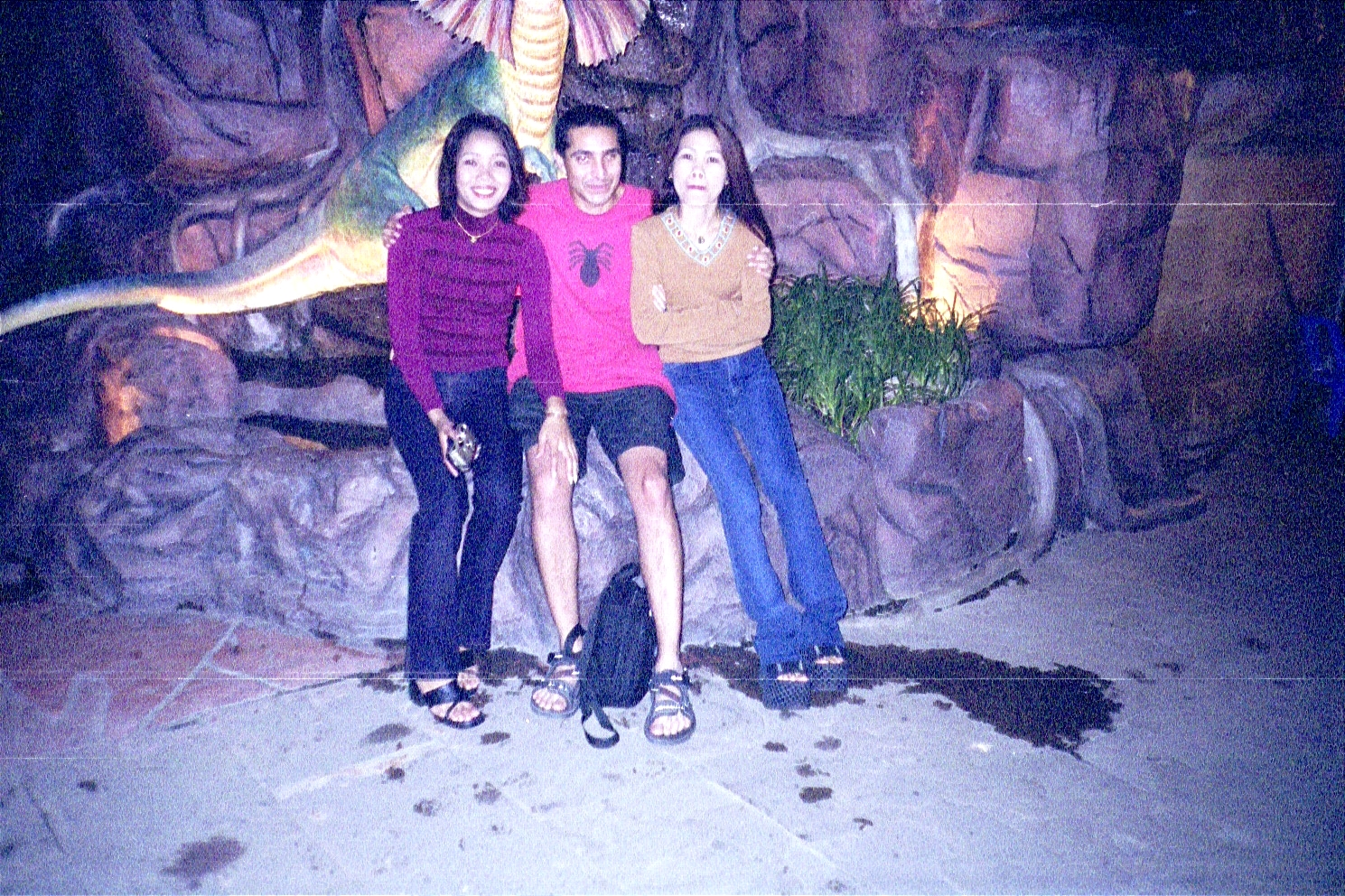 January 21. We had to leave very early to the Phi Phi Islands. As with our trip to Ko Phagnan, we had to take a large boat to Phi Phi Don, one of the Phi Phi Islands. We had lunch there and a long-tail boat took us a ways into the ocean for some snorkeling, which was a lot of fun and where we got to see some exotic fish. We came back and did more snorkeling by the beach.
Mali had left her camera on the beach for a few minutes while she was in the water and when she came out, the camera had disappeared, but thanks to some cool detective work, we found that it was picked up by a person who thought it was lost. Losing and getting the camera back was a huge rollercoaster, since it had great sentimental value for Mali, but things ultimately ended well.
From Phi Phi Don, our boat took us on a distant tour of Phi Phi Leh, the other island in the Phi Phi Island pair. We saw some amazing cliff faces and some cool rock/cave formations. We again lazed on the sun on the boat, and transferred to the Kata Garden Resort and head out to dinner.
We went to a nearby restaurant where a group from the Phillippines was playing some cover tunes and when they took a break, Mali and P'Ram convinced the restaurant management to let me play. They (the management) probably regretted it, but I had a lot of fun playing covers of tunes like Locomotive Breath by Jethro Tull, Time by Pink Floyd, and Trees by Rush. We ended the night with a swim in the pool.
January 22. The morning was relaxing, as we had a nice breakfast and spent more time in the pool until our flight to Bangkok.
January 23. We slept in late and I went off to catch up on e-mail and change my itinerary (again!) so I could leave on the 25th. We then did some shopping and failing to find an appropriate movie to watch, we mostly hung around and talked. We then went to a restaurant where we had our own room with private karaoke. We stayed there for about five hours, and while Mali and P'Ram performed Thai songs, I tore through their amazing selection of tunes like Temple of the King and Catch the Rainbow by Rainbow; Highway Star by Deep Purple; and of course, a whole bunch of cheesy love songs. It was a fun night.
January 24. We again slept in, wandered around Bangkok, We played around with some Neoprints booths and saw The Accidental Spy. We went to a disco for the night.

January 25. My flight was in the afternoon and we did a bit of shopping during the day. We slowly made our way to the airport where our hearts were heavy but there was no denying the amazing amount of fun we had. Our goodbye was emotional (to a point where people were looking at us weird) and I did not want to leave.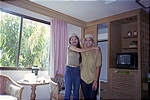 ---
So I lied. It ended up being forty five days. But aside from my research (I was able to make music), I was not in any frame of mind to come back. Within a week into the trip, I had reached this semi-enlightened state where I didn't care about anything else except the trip itself, which was a great feeling. As I write this, I dwell on all the memories but I am now comfortable and excited with my current life and my new position.
A note on the Lonely Planet guides: they were extremely useful as a reference and I can't think of a better book to consult for trips such as this, where you want to do everything by the seat of your pants. However, their advice is (perhaps justfiably) conservative which may result in missing out on cool adventures if you listen to them (and so this is a note for the more adventurous). The quote in Tintin in Thailand by Professor Calculus is apt in this context: "... as far as I'm concerned about the old stones from the "Looney Planet" guide book.... blaaaaaaaah!!!"
I can't summarise this trip in words I've not already used before, but it was just the beginning for all of us. We managed to sample and sometimes explore great aspects of four amazing areas in the world, and for me, it was an eye-opening experience that made me realise how lucky we are to live in America. At the same time, I also realised there were a lot of positive qualities in these areas that could be adopted and integrated into my own philosophies and that was a transformation for me. I saw my family and friends after eleven years and I had changed dramatically, but what I didn't expect was the change the forty five-day trip brought in me, and I live the experience every day.
---
Pseudointellectual ramblings || Ram Samudrala || me@ram.org || December 10 2000 - January 25, 2001
---