Thailand revisited (#12) for 2.4 months
---
This was a trip that included a lot of science and travel, while maintaining a central base in Bangkok, which I consider one of the best cities in the world. This is the longest "trip" I've taken away from a physical "home" and ranks as one of the best adventures I've gone on. We travelled the most the first 11 days and then had random excursions through the remaining two months. I went with my wife Mali and youngest daughter Maya.
Erawan
Mali and I landed in Bangok, rested for a day, and headed out to our family in Loei on Nov 21, which is in the northeast of Thailand. The family village is situated in a beautiful setting called surrounded by hills with long interconnected caves. The place is called Erawan, which refers to a elephant ("with many heads"). The pictures explain why.
Chiang Mai
There we left our ~2 year old daughter Maya with her grandma and headed out to Chiang Mai on Nov 23. Chiang Mai was a place we wanted to go because people spoke highly about it, but we found it "okay". We visited the Hmong "village" (which was an expensive tourist trap) and met members of the long necked tribe (caused by wearing neck bracelets --- their necks are stable without the bracelets if you're wondering), an orchid farm, and a lake, all on Nov 24. As usual, we saw unique Asian sights, like kids playing with machetes and a sunken boat in a small pond.
Bangkok
We then happily returned to Bangkok on Nov 26 where we still had a couple of "single" days left and found an apartment in Rangsit, an area on the outskirts of Bangkok. From Rangsit, to get into Bangkok, we had to take a shuttle to the Victory Monument (pictured above with Mali) and then the Skytrain. We hung out at Soi Cowboy and went dancing at places like Spicy and Boss.
Rangsit Future Park
Right across our apartment was a huge mall, the biggest I've ever seen (imagine five interconnected zig zagging malls), called Future Park. It was a play ground with my daughter for when we didn't go to Bangkok proper. This mega mall had it all, including a children's play area, and even young teenagers learning to break dance.
Maya
Perhaps the most significant aspect of this trip was that I got to spend a lot of precious quality bonding time with my daughter, something I don't do often enough while I'm in Seattle, and I was a primary caregiver for her. I felt like this was the first time I got to "know" her.
Maya's birthday
We celebrated Maya's birthday on December 29 in our tiny apartment: food, friends, family, gifts, merriment.
New Year's Eve at CentralWorld
We went to CentralWorld for New Year's Eve, allegedly the most happening place in Bangkok on that day. It was pretty crowded and we sat outside on the road listening to concerts and waiting for the countdown. The fireworks were okay, but the atmosphere was a lot of fun. Right after we left Thailand, massive demonstrations by "red shirts", populist followers of ousted Prime Minister Thaksin Shinawatra, led to this area being brought to a stand still for more than a month, eventually culminating in riots and fires where a large portions of CentralWorld were burnt down. You can see the Zen mall on the far left of the "panoramic" shot of CentralWorld above, and below are before and after pictures comparing Zen, side by side.
Koh Chang
We had to do the islands and beaches, and we did. We should've done it sooner and for longer, but it was fantastic nonetheless. Koh Chang beaches are noted for their beauty but it is getting overdeveloped. We stayed in a bungalow by the beach, playing in the sand, watching cabaret at night (can you guess who in the above picture are transvestites?), and getting massages. This was a very reminiscent of the tranquility I experienced my first time in Thailand in Ko Samui/Phangan about ten years back.
Sukhothai
While I babysat Maya, Mali went to Sukhothai to visit her friend's home which obviously has some great scultures and temples.
Partying
We went out a fair amount, and Bangkok is the place to party. Our traditional haunts include hanging out in the Sukhumvit area (where most of expatriates are). We went to new clubs Bossy, and had to check out Patpong once again (for shopping, of course). People remembered us from when were there in 2003! We spent a couple of weekends on Royal City Avenue (RCA) which is a street that gets turned into a complete set of open air clubs at night, with plants and all (see the dramatic transition above). One of the biggest was Route 66, which had about four branches playing different kind of music. We also hung out at a club called Zodiac near our apartment in Rangsit. The pop songs I got exposed to on this trip include Nobody (by the Wonder Girls---one of the best pop songs out there in my view) Poker Face, I Know You Want Me, Right Round, All the Single Ladies, and of course, there were many requests in to play One Night in Bangkok. There was an Indian song that kind of went "Samba Samba" but I don't know its name.
Shopping
Thailand is a shopper's paradise with great high end malls and cheap markets that are very hot and crowded. Besides Future Park, we went to Siam Paragon, Siam Square (where we tried some unappealing Chinese food), and Chathuchak.
Simple pleasures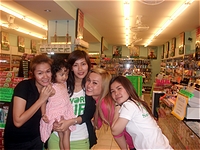 Right across our apartment was a makeup store manned by five girls (pictured above) who took a liking to Maya (and vice versa) and played with her. This shop front resembled a club atmosphere, with music playing constantly. I spent many a evening dancing in the street with my daughter here watching the sun go down.
One of the things that brought me great joy was sailing paper boats when it rained (the pointer above is Maya) and watching them speed into the drains. I had not done this since I was a kid and it was an euphoric experience.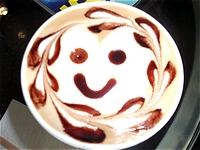 Another was the Homkrun Coffee shop which I frequented. Every time I went there, they would give me a coffee with cream on it that was intricately decorated. Above is a picture of that depicting Maya.
I had the pleasure of being graciously invited by a new friend, Sithichoke, to his wedding. It was done in a Chinese-Thai style and it was an interesting cultural experience.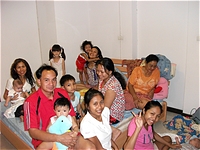 Finally, our apartments where our families stayed (we had two; one for us and one for Mali's family) could get very crowded at times, with more than a dozen people staying at once.
Science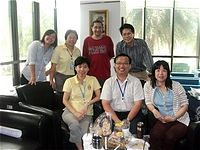 Science was what I did most while I was in Thailand considering that I was away for a long time. I wrote two grant applications and worked on a program to predict protein-DNA interactions and managed my group remotely. I gave my modelling protein interactomes talk at the National Center for Genetic Engineering and Biotechnology (BIOTEC), King Mongkut University of Technology Thonburi (KMUTT), Kasetsart University, and Mahidol University. It was good to go back and see my former students doing well: spent a lot of time with Duangdao who took great care of us. I met with a lot of old friends and collaborators, made several new ones, and came away refreshed!
Return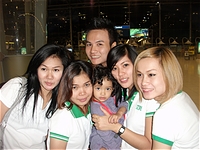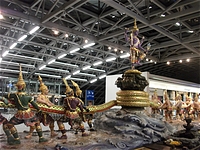 Some of our friends came to see us off at the Suvarnabhumi Airport (the image on the right above depicts the churning of the ocean on a giant turtle that is Vishnu's second incarnation). It was a sad goodbye, and we didn't want to leave. We had a hard time adjusting after we returned, finding Seattle very boring and very quiet. It took about another month to adjust to being away from the hustle and bustle of Bangkok. As always, I can't wait to go back.
Oddities, only in Thailand
As usual, there were some unique oddities I came across this time in Thailand that I've never even considered (one of the previous best was a guy opportunistically (and merrily) washing motorcyles in the torrential rain which had flooded the main roads with a foot of water). This time it was using compact discs (CDs) as reflectors for various purposes: on food stands to attract/keep away insects; on backs of vehicles as reflectors; and on backs of elephants are reflectors! Only in Thailand.
Having been to many great cities in the world, Bangkok is among my favourite. Others are San Francisco * * (my favourite in the US), Lima (Peru), and Amsterdam. Katmandu is pretty and has the energy and food and friendliness. Melbourne is also very good. Among all these places (and others), I'd pick Bangkok for a place to visit/have fun in. I do not like Chiang Mai at all (so that part I don't get).
To me arts and culture is more than just Western arts and culture in the sense of opera houses and Western style theatre. Bangkok has its share of traditional art, culture, music, and theatre (not necessarily a big fan of it but I get taken to these events all the time when I visit). There is also less aloofness and the culture involves active participation from the observer and the performers. It is not contrived, there always celebrations of some sort going on, and people are always ready to have fun ("sanuk" in Thai, a philosophy Thais genuinely seem to live by; even their recent protests were filled with merry making).
I think for sheer raw energy there's no place like Bangkok. It is "one crowded polluted stinking town" as Murray Head sang, but it is seething with a organic vibrancy (one of my Thai students joked "in other words, lack of planning") where anything can happen as the song goes. It is not a sterile and nanny state coddled which I appreciate.
Then there's the food, a low(er) cost of living, and once you get past the scams, the friendliness. What I see on the Internet/Web is that people are so terrified of getting scammed they are afraid to try anything out of the ordinary. I've gotten scammed big time in Istanbul and Beijing, and some small ones in Bangkok, but I take it in my stride.
---
Pseudointellectual ramblings || Ram Samudrala || me@ram.org || November 19, 2009 - February 1, 2010
---