Traversing a Twisted Path
The first album in a single take using a 4 track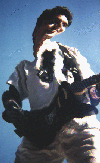 ---
Twisted Music Player
---
The songs are also listed below with a brief comment regarding the composition. Clicking on, or selecting, the name of a song will take you to the song with the lyrics, and the opportunity to hear the sound in stereo MPEG1 Layer 3 (mp3) format (approximately one MB/minute).
Dislike a song? Think the logo is cool? You can rank them in the opinions page (do it; you may win a free hard copy of the album)! Also, check out the review section.
Can't access the sound files? Click here to find out how to get your own copy of the album on tangible media.
The first part is simply the guitar of the second/third parts played backwards with different instrumentation.
The most notable thing about this song is the scale it uses, whose origin I cannot identify (though one person has written me saying it may be a medieval mode that exists in Iranian music and another has written saying it's could be called D aolian (minor sans raised 7th, or "natural minor") with what's known as "borrowing"). The scale is: D E F# G A Bb C D; I throw in an additional F whenever I feel like it (good thing I'm not your grader, eh?). It's the first song I've done with a PC-based sequencer for the rhythm section, and I think it's quirky. The lyrics are a tribute to Edward Lear.
This is the first song I ever wrote. While the execution isn't the best, I have a sentimental attachment to it. The hard copy album includes a version with me meandering with the guitar in the background.
A lot of the lyrics were inspired by Nietzsche's Thus Spoke Zarathustra, where he rambles on about the State and its evils. I like the composition so much that I've included the People version available in the album hard copy, bereft of human voices.
I wrote this song as a tribute to Primus. It's obvious why if you pay attention to the time signature. The lyrics came about as a result of a conversation which I had with a friend about pet peeves.
I think this song has some good guitar riffs, and I like the lyrics a lot.
This is one of my favourite songs. It's a tribute to Ween. It's based on two palindromic (recursive) riffs that cycle over the entire chromatic scale.
The only track where I don't do everything. Here Brian is doing a brilliant job on the guitars.
I wrote this song around a small keyboard riff I like. In fact, that's the about the only thing this song has going for it (besides the lyrics). Still, it's my attempt at a three chord song.
This song was written for two friends of mine for Valentine's Day. A lot of the lyrics probably don't make sense since they're side gags, but I included it here because I think the music is cool!
This is my experimental song where I throw in everything I feel like throwing in (also the first song I recorded). Has a few cool noises and effects. Disorted guitars and totally processed vocals make it hard to distinguish music from vocals.
This is my first attempt to try something really concrete with different time signatures. Guess why the song is called what it is? It's a bit long and the solo at the end is self-indulgent, but hey, that's me. The recording of the solo is the first time I ever came up with it and it is the first take. The lyrics were inspired by this little essay I wrote.
This one has extensive processed drums, bass, and keyboards, merged with a noisy guitar. Computer synthesised voice courtesy of the program rsynth. The lyrics are based on a post I read in alt.music.alternative by Graham, and I changed it a bit to fit the meter and make it rhyme.
I wrote the lyrics to this song in light of the Exon bill. I could've screamed it out like I do normally, but I decided not to. It's got a lot of cool electronic noise effects and a different time signature in the chorus. A cool piece of art based on this song has been created by John Heyer.
A self-indulgent cover of Beethoven's classic using only guitar and vocals.
A long time ago, I formed my first group and we call ourselves The Morons (fitting, eh?). And this is our theme song.
This was written in a fit of non-seriousness.
This is an extension of my previous effort, Hate Session 1. But here there's a lot of processing of both the vocals and the rhythm, and the guitars are more chord based.
This is my weirdest song to date. It has everything that I've used to make music weird: non-standard scales, non-standard time signatures, and plenty of processing (vocal and otherwise)!
I didn't do this bit in the 4 Primes tune and thought I should come back and do it again since it makes for a fitting closure.
---
This work is released in accordance with the Free Music Philosophy; there is no abridgement on your freedom to copy, modify, distribute, and use this work, for any purpose (commercial or noncommercial).
All instruments (vocals/guitars/keyboards/programming) by Ram. Guitars on Morals are Arbitrary by Brian. All songs were recorded, mixed, and produced by Ram. Mastered by Phil Mendelsohn. Graphics and design on this page and on the album also by Ram, with some help from Maureen. Moral support and guidance: Brian and Maureen.
Thanks to Bill, Brad, Brian, Gautam, Jonathan, Lynn, Maureen, Stig, the twenty amino acids, and everyone on the Internet, at CARB, and elsewhere, for putting up with my music torture in more ways than one, and for helping me grow as a musician.
---
TWISTED HELICES
||
Ram Samudrala
||
ram@twisted-helices.com
---